Overseas Training Programs
The Global Humanitarian Outreach Committee was formed in 2009 to support the ASA vision of improving global anesthesia care and education.
GHO grew out of the original ASA outreach initiative, the Overseas Teaching Program (OTP) founded by Nicholas M. Greene, M.D., in 1990. The OTP was created to address the urgent need for anesthesiologists to educate anesthesia providers in Africa and help address the growing crisis of fewer trained anesthesiologists in developing countries.
Over the years, OTP supported education programs in Tanzania, Ghana, Zambia and Rwanda.
The Rwandan program remains today, and is a testament to the success of the OTP program. This program is supported by ASA in collaboration with the Canadian Anesthesiologists Society International Education Foundation (CASIEF).
Also, a new educational partnership between ASA and CASIEF is approved and just beginning in Georgetown, Guyana ( see below ).
Rwanda Program: Volunteers Requested
Our program is currently recruiting two faculty volunteers to teach in Rwanda for one month each in 2017. Established in 2006, this program has been successful in training anesthesia physicians because of the efforts made by ASA member volunteers. For more information about the program, please read here: Guide for Volunteers [pdf]. Although previous experience in Rwanda is a plus, as is previous international experience, all ASA members are encouraged to apply.
The volunteers are needed for the following dates:
May 15 - June 9
June 13 - July 7
July 10 - August 4
August 7 - September 1
September 4 - 29
Please send any questions or to apply, your CV and a letter stating your reasons for interest, to Ana Crawford at ana9120@yahoo.com. For travel reimbursement requests and information, please contact Michele Campbell at m.campbell@asahq.org
For more information contact Dr. Ana Crawford at anamcrawford@gmail.com or Dr. Berend Mets at bmets@hmc.psu.edu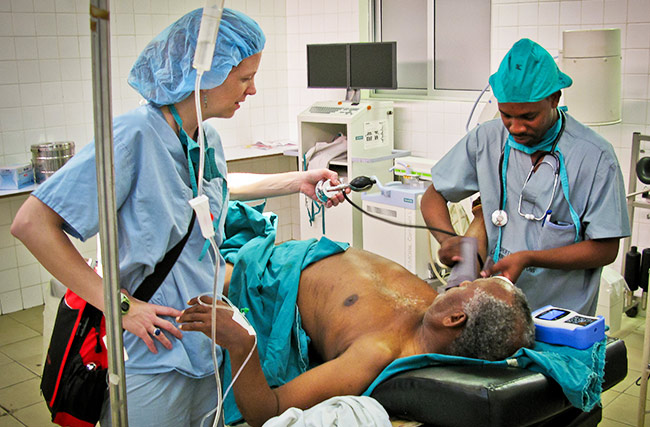 Training in Kigali, Rwanda
Guyana Overseas Training Program
A new joint venture is just beginning with CASIEF for ASA members to help educate and train Guyanese Anesthesiology Residents in a newly developed residency training program at the Georgetown Public Hospital.
Anesthesia delivery and training is precarious in Guyana. In most of the country, providers have technician or nursing-level training. There are three trained anesthesiology specialists working in the capital -- an insufficient number to provide quality education to a new generation of anesthesiologists. The new partnership will support educational efforts with volunteer anesthesiologists from the US and Canada.
Volunteers are needed for 2-4 week trips starting in Fall 2017. Volunteers will provide classroom and clinical teaching as well as support faculty development. Expenses are supported by the ASA. All interested ASA members are encouraged to apply. For more information please contact Dr. Julia Weinkauf at jweinkauf@gmail.com or Dr. Berend Mets at bmets@hmc.psu.edu. If you would like to apply, please include a CV and letter explaining your interest in volunteering.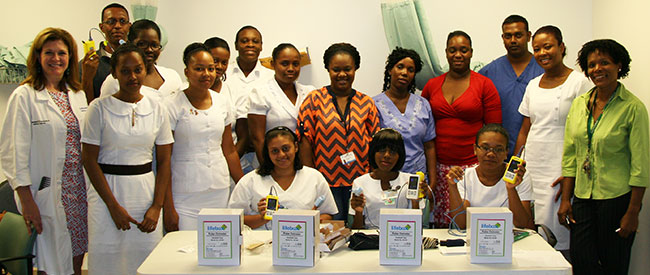 Training in Guyana with Lifebox